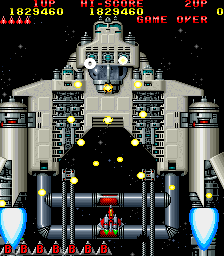 The Antonov Ma-27 is the penultimate boss in the original Raiden.
The Antonov Ma-27 is a large spaceship which is initially attached to the Cranassians Space Station. The boss will take flight after having two turret modules attached to it, starting to shoot at the player immediately after. It is possible to destroy the modules before they attach to the boss if the player is fully equipped. The boss will also be constantly aided by crawling drones which move along the iron bars in the lower portion of the ship.
Ad blocker interference detected!
Wikia is a free-to-use site that makes money from advertising. We have a modified experience for viewers using ad blockers

Wikia is not accessible if you've made further modifications. Remove the custom ad blocker rule(s) and the page will load as expected.