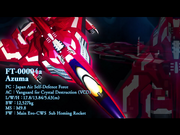 The
FT-00004A Azuma
is one of the playable aircrafts in
Raiden V
. It's origin place is Japan, where it's main operator is the Japan Air Self-Defence Force.
Of all the three ship designs, the Azuma keeps the traditional design of the classic Raiden/Fighting Thunder ME-02. The word "Azuma" means Lightning bolt. Which is fairly similar to the name "Fighting Thunder".
Ad blocker interference detected!
Wikia is a free-to-use site that makes money from advertising. We have a modified experience for viewers using ad blockers

Wikia is not accessible if you've made further modifications. Remove the custom ad blocker rule(s) and the page will load as expected.