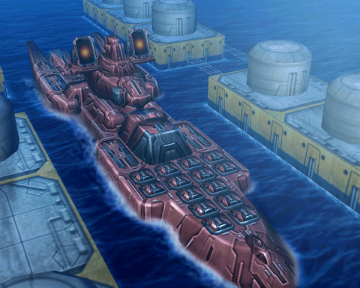 BS-03 is the third boss from Raiden III.
The BS-03 is a red submarine. Once it emerges from the water it starts shooting at the player and release floating drones which scatter bullets when destroyed. The boss is equipped with lots of guns on the prow, all of which must be destroyed. Once the guns are taken out, the boss will draw his main cannon and start sweeping the screen with bullets. Gunboats will also constantly come from the sides. Once the cannon is destroyed the boss will use two exhausters on the back to attack, eventually opening four extra guns to add to it's firepower.
Ad blocker interference detected!
Wikia is a free-to-use site that makes money from advertising. We have a modified experience for viewers using ad blockers

Wikia is not accessible if you've made further modifications. Remove the custom ad blocker rule(s) and the page will load as expected.