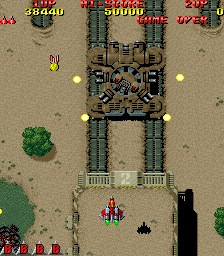 Desert Spider is the first boss in the original Raiden, and also the first of the "Twin Tanks" type of boss.
Desert Spider is a duo of railed tanks. Both tanks are identical, except for their paint job. You first confront the brown tank before the dark-green one comes into view. They are both equipped with four two-barreled guns which surround the rotating central cannon. They will be constantly aided by regular tanks coming from the sides.
Ad blocker interference detected!
Wikia is a free-to-use site that makes money from advertising. We have a modified experience for viewers using ad blockers

Wikia is not accessible if you've made further modifications. Remove the custom ad blocker rule(s) and the page will load as expected.