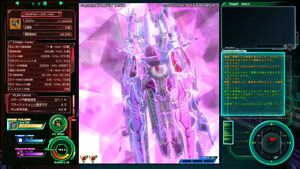 Divine Rampart is the true final boss from Raiden V. In order to reach this boss, players must power-up all of their weapons to the maximum level before reaching the fake final boss. 1CC is not required to reach it.
Divine Rampart is a floating, robot-like machine made of crystal with three arms and controlled by a Red Crystal. The fight begins with the boss sweeping the screen with fast bullets on a circular motion while red crystals come from the sides to help it. After it takes enough damage it will open up it's arms and detach them, as they continually cross the screen shooting bullets at the player. When the arms are destroyed the boss returns and resumes it's attack, inundating the screen with bullets while spinning in place.
Ad blocker interference detected!
Wikia is a free-to-use site that makes money from advertising. We have a modified experience for viewers using ad blockers

Wikia is not accessible if you've made further modifications. Remove the custom ad blocker rule(s) and the page will load as expected.