| | |
| --- | --- |
| | This article is a stub. You can help Raiden Wiki by expanding this page and giving a better description and more information. Remove this template from this article once more information, detail, and description have been added. |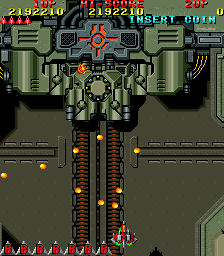 Doreineji Core is the final boss of the original 1990 Raiden vertical shooter.
Description
Edit
Doreineji Core is a green module with a Red Crystal contained inside. It fights in a traditional manner to many bosses by firing a few random bullets across parts of the stage, with some areas where the player won't be hit, which makes the Doreineji Core an easier boss to fight.
Speedkill tips
Edit
If you have the Laser and the Homing missile, this would kill the boss very early as possible, this is also works if you have the Missile Launcher Equipped
The first Final boss of the Game , and its controlled by a Red Diamond, if its Destroyed, the whole Cranassian base will shut down and explode when the main core is destroyed
The Cranassian Logo is seen through the base if the final boss attached to the Base system of it
Ad blocker interference detected!
Wikia is a free-to-use site that makes money from advertising. We have a modified experience for viewers using ad blockers

Wikia is not accessible if you've made further modifications. Remove the custom ad blocker rule(s) and the page will load as expected.