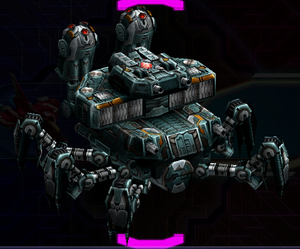 Exerey Iss is the first boss from Raiden IV.
Exerey Iss is a large spider-like walker tank with six mechanical legs. After coming from an elevator, the boss will start walking backwards while shooting. Upon taking enough damage, the boss will reveal his various guns, all of which can be destroyed. A few sniper tank will appear from the sides to help the boss.
Ad blocker interference detected!
Wikia is a free-to-use site that makes money from advertising. We have a modified experience for viewers using ad blockers

Wikia is not accessible if you've made further modifications. Remove the custom ad blocker rule(s) and the page will load as expected.