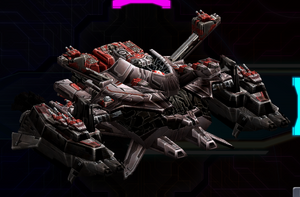 Famel Ya is the third boss in Raiden IV, and has two boss phases.
The Famel Ya is a marine battleship composed of four independent parts. During the first phase of the fight you face each separated part before they all join together for the second phase.
It has piercing vulcan bullets that follow the player across the screen that can mean fatal death if not carefully avoided, and can also fire large neon bullets at other times. After being shot many times, giant armor becomes attached to the Famery Yaa, making it more deadly and causing it to fire random vulcan shots, more neon bullets, turquoise worm-like bullets, razor bullets, and a vulcan ray that spreads more bullets.