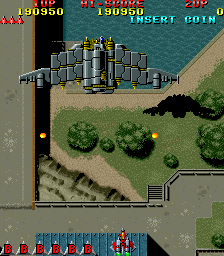 The Flying Fox is the second stage boss from the original Raiden, and the first aerial boss in the series.
Flying Fox is a armored airship protected by layers of flying drones. After fighting some of those drones, the boss shows up and starts its attack. After some damage the drones protecting it will be released and fly towards the player in flocks of six at a time. Once all of them are released, the boss's main guns are revealed.
Ad blocker interference detected!
Wikia is a free-to-use site that makes money from advertising. We have a modified experience for viewers using ad blockers

Wikia is not accessible if you've made further modifications. Remove the custom ad blocker rule(s) and the page will load as expected.