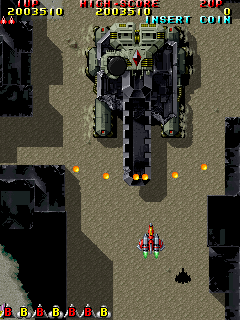 Graphite is the boss of stage 6 in Raiden II.
Graphite is yet another tank-like boss, and despite being a late-game boss isn't much of a threat. It's most prominent feature is the lengthy horizontal structure atop the boss, which is equipped with various small guns on it's contour, allowing it to shoot bullets all over the screen. It usually tracks down player movement, but will also crash into the terrain.
Ad blocker interference detected!
Wikia is a free-to-use site that makes money from advertising. We have a modified experience for viewers using ad blockers

Wikia is not accessible if you've made further modifications. Remove the custom ad blocker rule(s) and the page will load as expected.