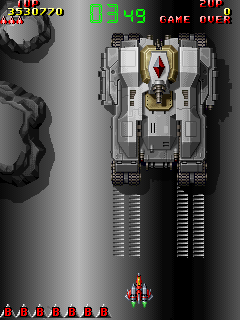 Gray Nodule is the true final boss of Raiden DX. An amazing feature is that once the boss is encountered, it starts out as a normal sphere. Once it starts attacking, it transforms into the tank. This suggests that the Cranassians have the ability to transform metal into any weapons of their choice.
When it changes out of it's sphere disguise, it'll attack with its turret, spread shots, then bullets that are aimed at you.
Once the turret is destroyed, It will reveal the crystal inside and deploy four orbital shields. The surviving cannons will still attack if you didn't destroy them.