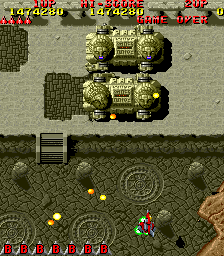 The Guardian is the boss of stage 5 in the original Raiden.
The Guardian is a pair of two-headed, tank-like statues which guard the floating continent. When the player approaches them, they will shine and then activate, moving left and right while the statue heads do the shooting. Each head is a separate target, meaning you must destroy both to fully destroy each of the tanks.
Ad blocker interference detected!
Wikia is a free-to-use site that makes money from advertising. We have a modified experience for viewers using ad blockers

Wikia is not accessible if you've made further modifications. Remove the custom ad blocker rule(s) and the page will load as expected.