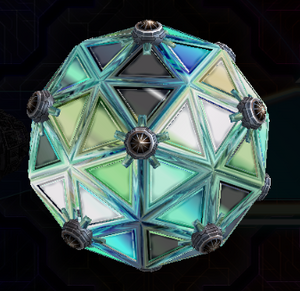 Horda Gardia is the final boss of Raiden IV (the real one being Horda Gestorada), and one of the few bosses in the series who has a second form.
When encountered, Horda Gardia is a giant mechanical droid, shaped like a disco ball with spikes, that fires random bullets at the player. Each of the triangular pieces of it's body and spikes is a target which must be destroyed. After they're destroyed, it turns into a Cranassian Crystal, but continues shooting until the player finally destroys it. It then loses its powers, turns back into a normal Cranassian Crystal and flies off into deep space, ending the first part of the game.
Ad blocker interference detected!
Wikia is a free-to-use site that makes money from advertising. We have a modified experience for viewers using ad blockers

Wikia is not accessible if you've made further modifications. Remove the custom ad blocker rule(s) and the page will load as expected.