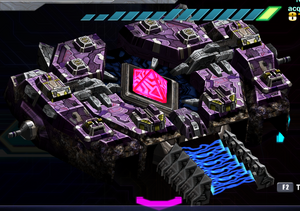 Horda Gestorada is the true final boss of Raiden IV and is a fortress upgrade of the final boss from Raiden II, Mother Haven, which is a high upgrade of the boss with improved AI, and a battleship. Unlike Mother Haven, however, Horda Gestorada is a hovercraft, and not the traditional fortress-type.
Horda Gestorada has the same assault tactics as the Cranassian Dome, but with giant Vulcan bullets similar to the Raiden Vulcan firepower. It also fires rapid-firing bullets, vulcan rays, and a swarm of bullets that spread across nearly the entire screen.
Ad blocker interference detected!
Wikia is a free-to-use site that makes money from advertising. We have a modified experience for viewers using ad blockers

Wikia is not accessible if you've made further modifications. Remove the custom ad blocker rule(s) and the page will load as expected.