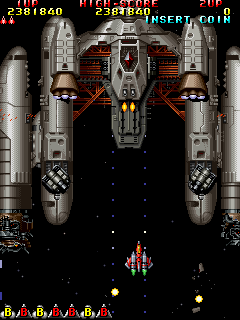 Huge Satellite is the boss of stage 7 in Raiden II.
The Huge Satellite is a space ship which comes out of the Cranassians battleship, propelling itself with side engines. Each of the phases on the sides have guns on them, the boss dropping them once the guns are destroyed. It's rocket propellers also have guns which constantly open and close, as well as gun turrets on the lower which constantly respawn until the player destroys the openings from which they come from.
After its destroyed, the Red Crystal will fly toward to Mother Haven. This only can be seen if you kill this boss without using Bombs.
Attack Pattern and Phases
Edit
Phase 1: It will attack you by its cannons on the parts of the rocket, it will also fire a spread of bullets, the respawning point of the cannos can be destroyed earlier if you want the 2nd phase alrady
Phase 2: This will Release the 1st set of rocket propellers, and it looks like a Modified Antonov Ma-27, however, it's attack will remain the same, without the respawn cannons
Ad blocker interference detected!
Wikia is a free-to-use site that makes money from advertising. We have a modified experience for viewers using ad blockers

Wikia is not accessible if you've made further modifications. Remove the custom ad blocker rule(s) and the page will load as expected.