Miclus (ミクラス mikurasu) is Seibu Kaihatsu's mascot. It served roles in Seibu's library of games as a boss enemy, collectible items and game secrets. Its most notable role is as a secret playable character in Raiden Fighters 2: Operation Hell Dive and Raiden Fighters Jet.
In Raiden Fighters 2: Operation Hell Dive and Raiden Fighters Jet, the Miclus is a playable character.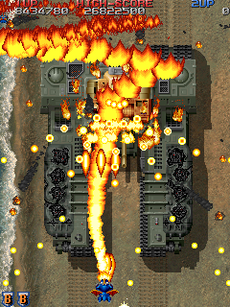 Its weapon is highly damaging fireballs. The weapon requires just four "M" or "L" powerups to fully power it up. Its bomber is a flamethrower that the player can bend by moving left and right. Unlike other bombers, this one does not destroy enemy bullets.
Appearances
Edit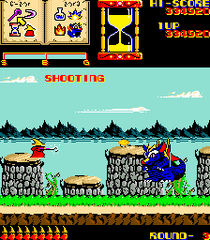 Wiz (1985):In this old sidescroller arcade game by Seibu Kaihatsu, the Miclus is the final boss.
Raiden series: The Miclus is a rare collectible item that appears in place of medals occasionally.
Raiden Fighters series: In all three games, the Miclus is a secret that holds 9 medals, which are released when the player shoots him, granting 100,000 points in the end. In the second and third games, the Miclus is a playable character (and possibly the most powerful of all).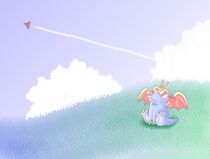 In other media
Edit
The Miclus has appeared as a plush toy avalible in Japan only (but can be shipped to the U.S. by online purchase).
External Links
Edit
TRFE info on Miclus and others
Plushie snapshots (Japanese)
Fighters
Interstellar Fighters
Raiden Supersonic Attack Fighter, Raiden mk-II, Raiden mk-IIβ, Judge Spear, Blue Javelin, Dark Sword, Fighting Thunder ME-02, Fighting Thunder ME-02β
Generation 1 Classic Fighters
Aegis, Beast Arrow, Devastator, Chaser, Endeavor
Generation 2 Classic Fighters
Aegis IV, Beast Wing, Death Header, Flying Ray, Eraser, Griffin, Aegis II-c
Experimental Fighters
Hell Diver, Ixion
Living creatures
Miclus, Fairy
Other
Slave
Ad blocker interference detected!
Wikia is a free-to-use site that makes money from advertising. We have a modified experience for viewers using ad blockers

Wikia is not accessible if you've made further modifications. Remove the custom ad blocker rule(s) and the page will load as expected.