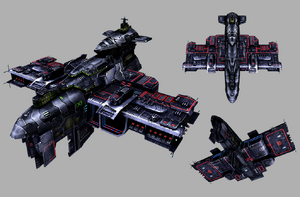 Platon is the first boss from Raiden V.
Platon is a large flying fortress, not unlike the ones from the Raiden Fighters games. The boss will initially release two small airships which can be easily dispatched, after which the boss will advance and commence it's attack. Instead of fighting it head on, the player will confront the two wings, one at a time. Both wings are equipped with various guns and turrets, all of which must be destroyed. Once the guns on both wings are destroyed, the boss will self-destruct.
Ad blocker interference detected!
Wikia is a free-to-use site that makes money from advertising. We have a modified experience for viewers using ad blockers

Wikia is not accessible if you've made further modifications. Remove the custom ad blocker rule(s) and the page will load as expected.