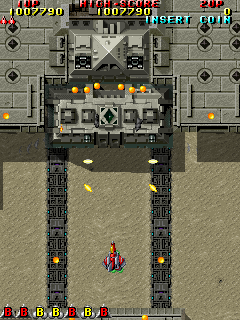 Thunder Fortress is the boss of stage 4 in Raiden II.
The Thunder Fortress is a multi-part gunwall on rails. Once approached the first part will start moving back, constantly casting lightning bolts which activate various turrets on the platforms above it. The first part is soon joined by two smaller parts and attaches itself to the central one. Once the three moving parts are destroyed the central part will start moving and cast lightning to activate turrets on the sides while shooting at the player.
Ad blocker interference detected!
Wikia is a free-to-use site that makes money from advertising. We have a modified experience for viewers using ad blockers

Wikia is not accessible if you've made further modifications. Remove the custom ad blocker rule(s) and the page will load as expected.